IFRAME SYNC
Have you got super sperm?
Here at ExSeed we aim to help guys understand and improve their fertility health. But what if your sperm is already in great condition?
We're launching a new feature on the ExSeed app that links guys with Super Sperm with nearby sperm banks and clinics, and will even reward those looking to donate!
What is "Super Sperm"?
Sperm quality is measured in a lot of ways, one being sperm motility. 'Total motile sperm count ' is the total number of moving sperm in a sample. Ejaculates with a higher number of motile sperm cells are more likely to fertilize an egg and lead to pregnancy.
'Super Sperm' is an unofficial term we've given to samples with a very high total motile sperm count.
| | | | | |
| --- | --- | --- | --- | --- |
| Sperm Quality | Low | Moderate | Optimal | super sperm |
| Total Motile Sperm Count (TMSC) | 0 – 7.5 million TMSC | >7.5 – 45 million TMSC | >45 million TMSC | >200 million TMSC |
How Super Sperm can help clinics
1 in 5 couples experience infertility, and around half of these cases are at least partially down to male factor infertility. In the last 40 years, we've watched sperm quality and count decrease by 50%!
This means more couples are looking for sperm donations so they can grow their family, while good-quality sperm is getting harder to find. Sperm banks have to send away around 80% of intended donor applicants because they don't have high enough sperm quality.
So to help out, we're going to be linking up guys with Super Sperm with sperm banks in need of donations.
"Sperm donation quite literally changed my life. I went from the heartache and despair of finding out I had no sperm of my own, to now being the proud father of twins – all because of the kind person who donated his sperm. By giving what I had none of, but he had in abundance, he made my dreams of fatherhood come true." –

Shaun – Knackered Knackers
How it works
Simply test your sperm with our ExSeed home-test kits, and wait 3 minutes for the results on your ExSeed app. If your sperm count and motility are high enough, you'll get a notification like this telling you you have Super Sperm:
You can then check the map on your app to find one of our nearby sperm bank partners: European Sperm Bank,  Cryos International, and Copenhagen Fertility Center. Then just get in contact with them, and join their sperm donor program.
After joining the program, our partners will give you a full refund for your ExSeed test kit. You are now on your way to becoming a donor!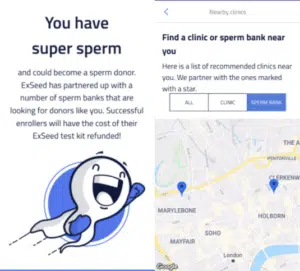 Becoming a sperm donor
The idea of becoming a donor might be daunting or even uncomfortable for some guys, but the reality is many couples are waiting for viable donations so they can start their families. More people than ever are facing fertility issues and may never be able to conceive a child on their own, meaning they rely on donations. And it is now easier than ever for donors to help out.
Testing and getting in contact with clinics through ExSeed is safe and reliable. Sperm banks are committed to keeping your donor status private, and keeping your medical information confidential.
Not only will you have your ExSeed kit refunded, but sperm banks compensate their donors for each donation.
Interested in becoming a donor or want to learn more? You can check out our partner banks right here to find out about their donor processes:
"We are supporting the use of this app and sperm test platform for men considering fertility treatment. This enables them in a proper, reliable way to access their fertility.  A fast and secure way to get information about fertility and how to proceed if needed. Further valuable help for those just testing and aiming at improving their sperm quality."

Professor dr. med. Svend Lindenberg, Copenhagen Fertility Center, one of the pioneers in Danish fertility treatments
Conclusion
It's important to keep an eye on your fertility health. Whether you're planning for the future or trying to conceive right now, it's good to know your status. With an ExSeed home-test kit, this process is easier than ever; simply order a kit, test, and receive results in the comfort of your own home.
And if you're one of the lucky few with strong, "super sperm", you could get the cost of your kit refunded if you enrol as a sperm donor!
The sperm bank feature is now live on the iOS App, and will be coming to Android very soon.